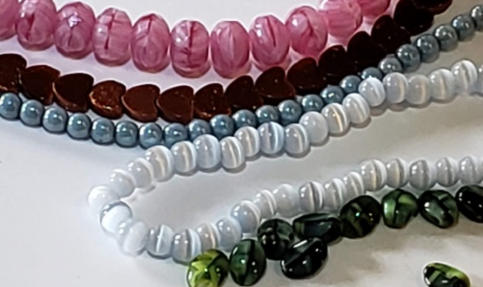 Bead Art Gallery - Page 6
Summer of Love Necklace Set
31 7/8 inches long
Flower Necklace - full of love. For the free
spirited lady. Might even bring back some
fun memories. Colorful flowers on a
yellow background.
Seed beads 11/0 - lots of colors












Cream Woven Necklace with 2
Pendants
20 inches long
Woven cream necklace with2 floral
pendants. Interchangeable pendants -
one with woven cream flowers with cubic
zirconia centers and one with glass pearls
(berries) and pretty opaline pinkish/red
flowers. An elegant necklace for an
elegant lady. One of a kind just like her.
Seed beads 11/0 - rainbow cream Delicas,
rainbow light topaz seafoam, rootbeer
frost rainbow, clear rainbow
3 mm cubic zirconia - orange
4 mm Czech glass pearls - cream color
5x7 mm pink/red flower beads
2 end caps
1 toggle clasp Stainless steel
Seafoam and Pink Floral
Necklace Set
20 ½ inches long
Woven pink and Seafoam necklace with a
floral pendant and matching earrings.
Removable pendant. A lovely feminine set
- perfect for Easter or Mother's Day.
Seed beads 11/0 - Pink Ceylon, Rainbow
Light Topaz Seafoam and Frosted Grape
6 mm pink bicones
5 mm flower spacers
3 mm cat's eye grape beads glass
5x15 mm Czech glass leaves - light green
with brownish gold specks
earwires and toggle clasp - Stainless steel
Yellow Multi Flowered Lariat
Set
27 inches long
Woven yellow, red, orange, seafoam and
Grape flowered necklace set. A very
bright and happy lariat necklace for
spring. Closure can slide up and down the
chain as desired or removed so the lariat
can be tied.
Seed beads 11/0 - Yellow, Red , Rainbow
Light Topaz Seafoam , Orange and
Frosted Grape
8 mm Cherry Red Candy Glass beads
8 mm flower spacers - seafoam
Earwires - Stainless steel
Multicolored Graphic Design
Lariat
39 3/4 inches long
Woven purple, green, orange, blue and
gold lariat necklace. Very long so can be
worn in many ways.
Seed beads 11/0 - Orange, Black Fuchsia
Matte, Green, Blue and gold.
Blue and Jonquil Necklace Set
18 - 19 inches long
Square, Triangle, Square. A very fun 2
toned necklace with 4mm champagne
colored glass pearls. Necklace set makes
a great gift for an anniversary or birthday.
Seed beads 11/0 - medium blue and
white lined jonquil
15/0 seed beads in eggshell
Gold colored toggle
Gold colored Stainless steel earwires