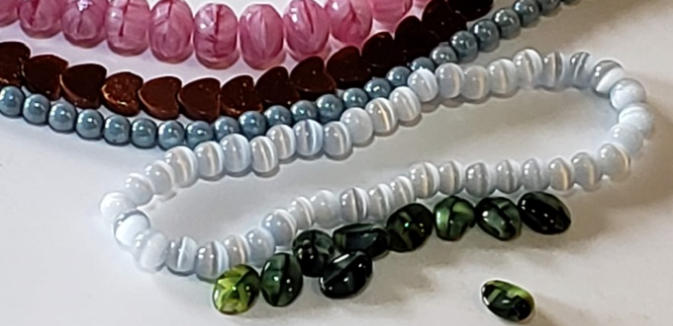 Bead Art Gallery - Page 14

This is a gallery of my past and present work. Each piece is
unique. If you see something you like email me about custom
work just for you.





Purple Trellis with Purple
Flowers Necklace
19 inches long (inside)
Lovely purple and lilac necklace with green vine
and purple flowers. So feminine and fun.
Seed beads 11/0 -Terra Pearl Lilac, Toho #1
Opaque Lustered Light Beige and Delica Matte
Forest
15/0 seed beads - Crystal Clear (for the clasp)
6 mm Purple Flowers
6 x 4 mm Alexandrite Czech Glass Rice Beads
25 mm Silver Plated Magnetic Clasp













Jasper Fall Necklace
20 ½ inches long
Pendant 3 ½ inches
Jasper, seed beads and other beads make up
this fall necklace. The pendant is a wooden
bead with fanciful pineapple colored flowers
hanging down.
10/0 Seed beads White with Travertine
11/0Seed Beads Matte Aquarius
6 x 8 mm Speckled Porcelain Beads - Olive,
Beige and Red
3.4 mm Drop Beads - Golden Grains
4mm Czech Fire Polished Crystal - Light
Metallic Rhubarb
6 mm Fire Poppy Jasper Rounds
6 x 8 mm Czech Glass Leaves - Calypso Green
3 mm Milky Teal Druks
12 mm Wooden Bead
10 mm Matte Pineapple Glass Rounds
8 mm Gold Plated Bead Caps
18 x 9 mm Gold Plated Magnetic Clasp
Fishie Flexible Enameled
Necklace
Undersea necklace with a flexible metal
enameled fish and 3 layers of water. Small
abalone tiles and seed beads and drop beads.
27 inches long (longest rope)
Enameled metal fishie
11/0 seed beads From cream to crystal to light
and dark blues and light and dark greens and
purples and gold and silver
3.4 mm drops - golden grains, 4 mm round
beads - Red Vega I believe
3 x 4 mm metallic rhubarb Czech glass
polished and faceted
AB Glass and plastic rounds for bubbles
Tierracast Gold plated Nugget 3 hole Bar
Tierracast 9 x 30 mm magnetic clasp - Antique
Gold Plate
Terra Agate Necklace
A warm rich fall necklace with browns, pinks,
peaches. The pendant can be flipped
depending on your mood. It lies flat.
20 1/2 inches long
11/0 Seed Beads - Ceylon Pastel Peach and
Root Beer
25 mm Terra Agate Flat Coin
6 mm Mixed Round Gemstones
6 x 3 mm Madeira Opal Czech Glass Fire
Polished Rondelles
8 x 4 mm Pink Czech Glass Fire Polished
Rondelles
6 mm Czech Glass Hexagon Carnelian Opal
14 K Gold Filled Clasp 12 x 14 mm, Toggle 18
mm