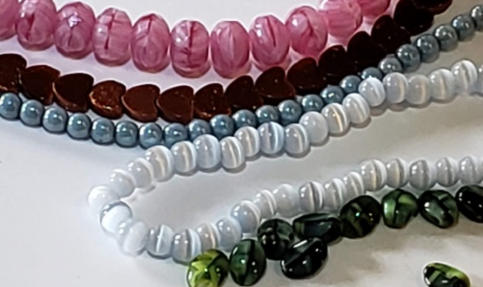 Bead Art Gallery - Page 18





































Elephant Necklace
19 ½ inches long
This sweet little elephant will cheer your
heart. Larger beads on either side of the
elephant keep it in place.
11/0 Seed Beads Toho Opaque Lustered
Light Beige, Gold
10/0 Seed Beads Czech Glass Mixed
Colors
3 mm Czech Glass Luster Opaque Rose
Gold
1 ¼ x 2 inch Murano Lampwork Elephant
Many Colors
18 x 9 mm Tierracast Hammertone Gold
Plated Magnetic Clasp
Southwestern Bling Necklace
18 3/4 inches long
A little Southwestern flair to this sparkly
necklace. The metallic seed beads are
very colorful.
11/0 Seed Beads Metallic Wildflower
Round and Turquoise Blue Matte
3 mm Madagascar Amazonite Faceted
3 mm Pearl Crystal Faceted Barrel
6 mm Antique Silver Star Focal Bead
12 mm Czech Glass Star Turquoise
18 x 9 mm Tierracast Hammertone White
Bronze Plated Magnetic Clasp
Long Lampwork Necklace
43 inches long
Beautiful lampworked beads are in this
long necklace. May be worn in many
ways.
11/0 Seed Beads Toho Gold Lined
Rainbow Crystal and Toho Org. Creme
Black Diamond
5 x 6 mm Bellflowers - Periwinkle and
Dragonfruit
5 x 7 mm Bellflowers - Czech Glass
Fruitcake
6 mm Aqua with Gold Melon
8 mm Czech Glass Melon Pink with Silver
6 mm Czech Glass Lumi Pink Druks
3 mm Apollo FirenPolished Round
13 x 11 mm Silver Rondelle Lampworked
Glass with Gold, Pink and Blue
20 x 16 mm Tierracast Ant. Gold Plated
Floral ToggleClasp