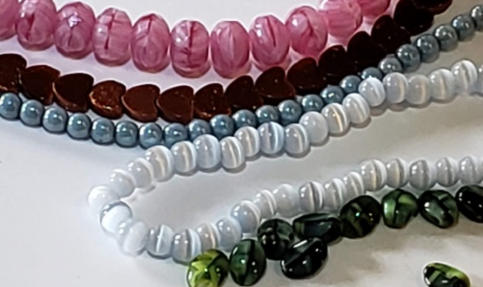 Bead Art Gallery - Page 18





































Elephant Necklace
19 ½ inches long
This sweet little elephant will cheer your
heart. Larger beads on either side of the
elephant keep it in place.
11/0 Seed Beads Toho Opaque Lustered
Light Beige, Gold
10/0 Seed Beads Czech Glass Mixed
Colors
3 mm Czech Glass Luster Opaque Rose
Gold
1 ¼ x 2 inch Murano Lampwork Elephant
Many Colors
18 x 9 mm Tierracast Hammertone Gold
Plated Magnetic Clasp
Southwestern Bling Necklace
18 3/4 inches long
A little Southwestern flair to this sparkly
necklace. The metallic seed beads are
very colorful.
11/0 Seed Beads Metallic Wildflower
Round and Turquoise Blue Matte
3 mm Madagascar Amazonite Faceted
3 mm Pearl Crystal Faceted Barrel
6 mm Antique Silver Star Focal Bead
12 mm Czech Glass Star Turquoise
18 x 9 mm Tierracast Hammertone White
Bronze Plated Magnetic Clasp
Long Lampwork Necklace
43 inches long
Beautiful lampworked beads are in this
long necklace. May be worn in many
ways.
11/0 Seed Beads Toho Gold Lined
Rainbow Crystal and Toho Org. Creme
Black Diamond
5 x 6 mm Bellflowers - Periwinkle and
Dragonfruit
5 x 7 mm Bellflowers - Czech Glass
Fruitcake
6 mm Aqua with Gold Melon
8 mm Czech Glass Melon Pink with Silver
6 mm Czech Glass Lumi Pink Druks
3 mm Apollo Fire Polished Round
TierraCast Antique Gold (plated) Ivy Leaf
Charm 8x16mm
13 x 11 mm Silver Rondelle Lampworked
Glass with Gold, Pink and Blue
20 x 16 mm Tierracast Ant. Gold Plated
Floral Toggle Clasp
St. Petersburg in Bronze and
Pink
21 inches long
Bronze and Pink (with a little blue) St
Petersburg design. Lovely fringe ending in
frosted pink beads.
12 x 12 mm Lampwork Stars in Pink and
Blue/Pink
11.0 seed beads - Toho Frosted Metallic
Dark Bronze and Pink Ceylon Matsumo
3mm Czech Glass Frosted Pink Smooth
Druks
4 mm Czech Glass Pink AB Smooth Druks
19 mm Teardrop Flower Toggle Clasp
Pewter with Antique Bronze
Flowers Climbing on Rope
19 1/2 inches long
Drop 1 ½ inches
The rope is made from tiny woven seed
beads. The vine grows up the rope and
blooms with fuchsia flowers and green
leaves. There are little buds and thorns
along the vine.
15/0 Seed Beads Toho Ceylon Light Ivory
11/0 Seed Beads Czech Glass Olive Matte
AB and Toho Frosted Metallic Bronze
10/0 Seed Beads Medium Red AB
3.4 mm Miyuki Drops Ruby Bronze
5 x 6 mm Czech Glass Fuchsia with Pink 5
point flowers
15 x 39 mm Vintage Antique Brass Violet
Sprig Connector
4 x 5 mm Drop Bails Antique Brass
11 x 15 mm Antique Brass Toggle
Chenille Golem Bird Necklace
211/2 inches long
Little white and blue flowers decorate the
netted tube. A lovely Golem Studios
ceramic bead with a bluebird sits among
the tubing.
15/0 Seed Beads Toho Ceylon Light Ivory,
Toho Transparent Olivine
11/0 Seed Beads Toho Matte Color Iris
Brown . Toho Ceylon Lt. Ivory, Toho
Opaque Lustered Lagoon and Toho
Perma Fin Matte Galvanized Starlight
4 mm Glass Pearls
6 mm Glass Pearls
6 mm Melon Aqua Gold Wash
24.5 x 19.5 Golem Studio Sunrise Bluebird
Carved Ceramic Almond
TierraCast 16 mm ring and 26 mm bar
Toggle Clasp Anna
Ivory and Copper Necklace
20 inches long
Pendant 2 inches
Netted Ivory , Terra Cotta and Topaz
Beads make up the chain of this necklace.
The pendant is made from copper
findings and a Grande Leaf Bead Cap
turned into a bell. With a few AB Green
faceted Beads.
11/0 Seed Beads Toho Ceylon Light Ivory
8/0 Seed Beads Toho Opaque Terra Cotta
6/0 Seed Beads Smoke Topaz Silver Lined
3 mm Fire Polished Czech Glass Crystal
Copper Round Beads
7 mm 6 pointed Copper Bead Caps
6 mm Fire Polished Green AB Faceted
Rounds
6 mm Copper Round Bead
Nunn Design Antique Copper (plated)
14mm Grande Leaf Bead Cap 14x20mm
17 mm Ring and 27 mm Bar TierraCast
Antique Copper Toggle Clasp
Spider Black and Red Necklace
20 inches long
Web 2 ½ inches
Netted necklace in black and red. It has a
nice spider for Halloween or any time you
would like a little scary necklace.
8/0 Seed Beads Opaque Matte Black
11/0 Seed Beads Opaque Matte Black
35 x 35 mm Metal Sparkly Spider
4 mm Jet Fire Polished Faceted Beads
4 mm CG Red Crystal Beads
16 mm Ring and 26 mm Bar TierraCast
Toggle Anna
Christmas-y Netted Necklace
20 ½ inches long
Dangles ¾ inch
Vintage French Striped green seed beads.
They look kind of minty. It's a little off
color for Christmas but I think it could
work. It has a little poinsettia type flower.
10/0 Seed Beads Vintage French White
with 4 green stripes
11/0 Seed Beads Preciosa Ruby Matte
15/0 Seed Beads Toho Silver-Lined Lemon
4 mm CG Druks Transparent Peridot
4 x 5 mm Candy Apple with Metallic
Luster Crystal Faceted Teardrops
3mm, 5mm, 6 mm Gold Plated Daisy
Spacers
5 x 6 mm CG Dragon Fruit Bellflowers
17 x 13 mm TierraCast Temple Stitch
Magnetic Clasp Gold Plated
Square Dance Necklace
20 3/4 inches long
Pendant 2 inches
Didn't know if this would work but
decided to try it. Each square moves over
one space going outward. Nice feeling
necklace also.
11/0 Seed Beads - Toho Perma Fin Matte
Galvanized Starlight, Toho Ceylon Glacier,
and Toho Lustered Lt. Beige
10/0 Seed Bead Topaz Red-Lined Czech
Glass
8/0 Seed Bead Toho Ceylon Lt. Ivory
7 x 13 mm TierraCast Ant. Gold Plated
Temple Magnetic Clasp Set