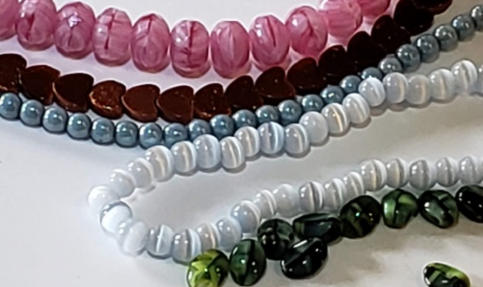 Bead Art Gallery - Page 11











Multi Colored Floral Lariat
30 inches long
Lots of little spring flowers in cherry, pink,
and cream with yellow centers and a
green background. Long enough to be
worn in many ways. Nice graphic
elements as well. Fun necklace for
someone young at heart.
Seed beads 11/0 - Green, Pastel Frosted
Shrimp, Frosted Cherry and Ceylon Light
Ivory
4 mm Glass Rounds - Coral Pink
Pink and Black Crystal
Necklace
18 ½ inches long
A lovely necklace for a lovely lady. Pretty
pink and black crystals sparkle and shine.
Would look great with a silk shirt or
Cashmere sweater or both!
Seed beads 11/0 - Black
4mm Pink Bicone Crystals
4 mm Pink Round Faceted Crystals
4 mm Black Round Faceted Crystal
4 x 6 mm Pink Faceted Crystals
Tierracast Black Toggle Clasp
Spirals and Flowers
41 inches long
Pink, Fuchsia, and Dusty peach beads
swirl through this lariat with splashes of
Bronze. Then flowers of the same colors
with Golden centers. At 41 inches long it
can be worn in many ways.
Seed beads 11/0 - Antique French
Fuchsia, Dusty peach, Pink Ceylon, Gold
Sprinkles Necklace Set
19 3/4 inches long
With a neutral tan and cream background
this necklace is still full of color. It can be
worn with so many outfits. The colorful
earrings add a fun touch.
Seed beads 11/0 - Cream, Orange, Red,
Yellow, Green, Blue, Purple, Gray
3 mm glass beads - Tan
6mm Glass Pearls - Cream
Gold Plated Spacers 5 mm
Gold Filled Earwires
Clasp - Tierracast Ant. Gold Plate Beaded
Hook and Eye 14 x 7 mm
Fauny Spring Necklace Set
19 ½ inches long
The browns and greens in this set remind
me of the earth and trees. Great for that
nature loving lady.
Seed beads 11/0 - Browns, Greens - Light
and Dark, Ceylon Light Ivory
4 mm Czech Fire Polished Beads Matte
Crystal Marea
3.4 mm drop beads
12 mm wooden beads
Copper Clasp
Brass Earwires
Tutti Fruity Necklace
18 ¼ inches long
The bright colors of this necklace
reminded me of a fruit salad or Carmen
Miranda. The beads are faceted cat's
eyes with lots of sparkle.
4 and 6 mm Faceted Cat's Eye Beads -
Yellow, Orange and Green
11/0 seed beads - Orange
Gold Plated Infinity Clasp
Aquarius Fishie Necklace
19 ¼ inches long
Made with more than 12 colors of seed
beads and crystals and discs and a large
round shell pearl. This necklace ends with
a fun fishie clasp.
11/0 seed beads - Blues, Greens, Light
Ivory
4 mm Faceted Crystals, Green, Clear, Blue
3.4 mm Drop Beads - Capri Blue
12 mm round shell Pearl - Tahitian Blue
10 mm Mother of Pearl Discs
12 mm Mother of Pearl Moon Shaped
bead
4 x 6 mm Copper Plated Spacers
Copper Plated Fishie Clasp
Linked Green and Dark Coral
22 inches long
Linked necklace representing spring.
Dark Coral beads and transparent Green
Beads. Lovely, light necklace.
6/0 Seed Beads Emerald Green
4 mm Coral Glass Beads
6 mm Fire Polished Green AB Faceted
Round
5 x 8 mm Faceted Glass - Light and Dark
Green
Antique Silver Plated Feathers 7 x23 mm
Silver Plated Magnetic Clasp
Silver Plated 20 Gauge Wire
Long Lariat of Many Colors
39 inches long
Netted long beaded necklace with
oranges, blues and lagoon colors. Can be
worn in many ways. A fun necklace with
short dark blue crystal dangles. A very fun
necklace.
11/0 seed beads - Orange, Dark
Blue, Lagoon and Jonquil White Lined
4 mm Dark Blue Crystals
3 X 4 mm Turquoise Crystal Rondelles
4 mm Pearls Mint Tea
3.4 mm Drops - Transparent Orange AB
3 mm Czech Glass Iris Purple Melon
Round
Beachy Vibes Necklace
19 inches long
The colors in this necklace reminded me
of the beach. The silver, turquoise and
macadamia colored beads are so pretty
together.
11/0 seed beads - Teal Green
6 mm Pacifica Macadamia Druks
4 mm Teal Cat's Eye rounds
6 x 13 Glass Corrugated Dagger
Turquoise
12 x 14 mm Starburst Opaque Turquoise
Silver Plated Wire
Silver Plated Magnetic Clasp