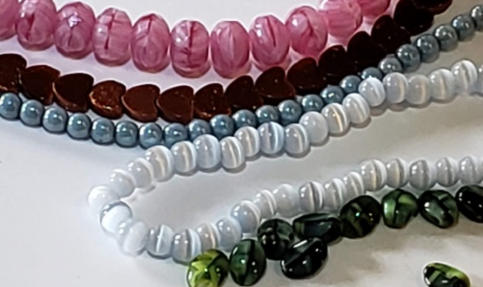 Bead Art Gallery - Page 13













Falling Leaves Pumpkin
Necklace
18 ⅝ inches long
Falling leaves and flowers on a pumpkin
background. Wonderful for fall or late
summer. This necklace is so much fun.
Seed beads 11/0 - Pumpkin, Opaque
Delica Turquoise Blue, Toho Frosted
Metallic Dark
Bronze
9 x 14 Czech Glass Leaf - Green Opal with
Travertine Wash
10 x 13 Czech Glass Crystal Luster Maple
Leaf, Vanilla Smoke Maple Leaf
9 x 11 Czech Glass Dark Bronze Leaf
9 x 14 mm Amber Czech Glass Side
Drilled Leaf
6 x 13 Glass Corrugated Dagger
Turquoise
11 x 13 Czech Glass Oak Leaf - White and
Green Opal with Black Wash
8.5 x 6.5 Tortoise Bellflower
6 mm Czech Glass Bellflower - Red
6 x 7 mm Czech Glass Bellflower - Many
Colors
Multi Bronze Beads 3mm - 4 mm
5 mm CG Melons Topaz
5 x 6 mm CG Twisted Rondelle
Turquoise Glass Button
Black and Copper Necklace
21 inches long
Lampwork black and copper beads are
the focal of this necklace with a copper
flower in the center. A dramatic looking
necklace for a night out.
8/0 Seed Beads Matte Black
11/0 Seed Beads Matte Black
15/0 Seed Beads Black
10 mm beads Lampwork Black and
Copper
4 x 6 mm Tierracast dotted Copper Plated
Spacer
6 mm Czech Glass Fire Polished Beads
Green
8 mm Czech Glass Black Beads
14 mm Nunn Design Antique Copper
Plated Grande Leaf Bead Cap
4 mm Fire Polished Copper Lined Cryatal
Beads
20 x 15 mm Tierracast Copper Plated
Heirloom Toggle Clasp
Pink Elephants Necklace
20 inches long (inside)
Pink Elephants on Parade! A fun Necklace
with cute elephants and embellishments
on a bronze and starlight background. A
pretty netted necklace.
11/0 Seed Beads - Perm Finish Matte
Galvanized Starlight, Frosted Dark Bronze,
Lagoon, and Sparkly Pink
8/0 Seed Beads - Aqua
6 x 8 mm bronze metallic Beads
10mm Tiny Tassels - Pink and Aqua
12 x 16 Tierracast Gold Plated Toggle
Copper Necklace with Roses
17 inches long
Copper link necklace with glass beads in
many colors and sizes. The pendant is a
ball of roses.
20 Gauge square copper wire
Glass Beads 5 mm - Green, 4 x 8 mm AB
Metallic, 6 x 7 mm Purple, 4 x 5 mm -
Light Green, 8 mm Green Goldstone, 8 x
10 mm Dark Green
Large Leaf Necklace
21 1/4 inches long (inside)
Shiny, sparkly necklace with square 2
holed beads and a large leaf pendant. It
hangs nicely without being too heavy.
11/0 Seed Beads - Toho Semi Glazed
Turquoise
4 mm Czech Glass Round Druks Opaque
Pearlized
5 mm Cocoa Airy Pearl 2 holed Square
Beads
34 mm Pewter Leaf Antique Silver
Tierracast 20 x 15 mm Toggle Clasp Silver
Plated Heirloom
Moonstone Necklace
20 ½ inches Short Strand
25 ½ inches Long Strand
Two strand necklace with beautiful
Moonstones - tumbled with AB Luster.
The moonstones are semi transparent
and look wonderful with the lovely tones
of peach and ivory in the seed beads. And
they just shine in the sunlight.
11/0 Seed Beads - Light Ivory, Pastel
Peach, Pastel Rose, Smoky Silver -,
5- 10 mm Peach with AB Luster
Moonstones Tumbled Nuggets
Gold Filled Jump Rings
Tierracast 12 x 15 mm Toggle Clasp
Beaded 2 Loop Gold Plated
Caged Cubes Necklace
19 ½ inches (Inside)
Peridot and topaz Czech glass cubes are
caged in between rectangular rice beads.
There is one little oddball in the necklace.
Can you find it?
11/0 Seed Beads - Chocolate
6 mm Czech Glass Cubes - Topaz and
Peridot
3 mm x 6 mm Peachy-Pink Rice Beads
Gold Plated 3 mm Heishi Spacers
Tierracast Gold Plated Hammertone
Magnetic Clasp Set
Netted Aqua and Blush
Necklace
20 ½ inches (Inside)
Asymmetrical necklace with interesting
geometrics. A lovely Feel and beautiful
design. She'll love it.
11/0 Seed Beads - Chocolate, Terra Blush,
Lagoon
4 mm Czech Glass Pearlized Opaque
Druks
8 mm Magnetic Round Antique Brass
Clasp
Multi Colored Netted Necklace
35 inches
A long necklace that can be worn as a
double strand. The colors are Bronze,
Rainbow Topaz and little Green and
Orange. Designed to be worn with the
toggle and little hummingbird on the
front. - Or however you like.
11/0 Seed Beads - Rainbow Topaz,
Metallic Bronze
4 mm Czech Fire Polished Glass - Dual
Coated Orange and Teal rounds
3 mm Topaz Rounds
6 mm Orange Glass Lentils
3 mm Czech Fire Polished Multi Bronze
Mix
8 mm Czech Glass Melon Beads - Green
and Copper
7 x 23 mm Tierracast Antique Copper
plated Hook and Eye Clasp Set
19 x 14 mm Tierracast Antique Copper
Plated Hummingbird
Horse Eye Netted Necklace
21 inches
A lovely netted necklace with horse eye
shaped beads. Terra cotta and greens are
the base of this beauty.
11/0 Seed Beads - Opaque Terra Cotta,
Matte Aquarious, Semi-Glazed Turquoise
15/0 Seed Beads - Crystal
4 mm Czech Glass Pearls - Light Peach
4 x 6 mm Czech Glass Fire Polished
Faceted Green Travertine
16 x 7 mm Rainforest Picasso Horse Eye
Beads
6 x 10 mm Tierracast Copper Plated
Magnetic Clasp