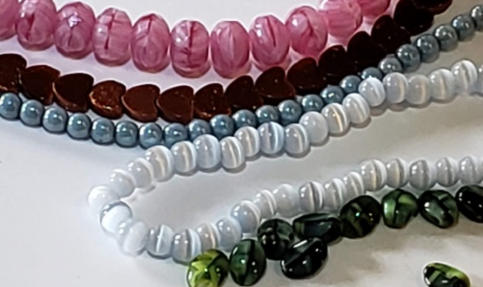 Bead Art Gallery - Page 15
























Día de los Muertos Necklace
24 3/4 inches long
Day of the Dead. My first time celebrating
this holiday. I really appreciate celebrating
instead of mourning for our dearly
departed. This colorful necklace sings to
the lives of those lost and sweet to us.
Seed beads 11/0 - Many Colors
9 x 11 mm Daggers - Teal Silver and
Frosted Black Diamond AB
5 x 7 mm Bellflowers - Czech Glass Fruit
Cake
6 x 8 mm Bellflowers - Czech Glass
Butterscotch
5 mm flowers - Czech Glass - Topaz and
Light Blue
3 x 8 mm Czech Glass Flowers - Red
5 x 7 Czech Glass Opaque Bali Style Daisy
Spacer
6 mm Melon Beads Czech Glass Blue and
Crystal with Gold Stripes
8 mm Frosted Aqua Vitrail Flowers
Purple Owls Necklace
24 inches long
I never saw a purple owl… Fun necklace in
purples and fuchsia.
16 x 18 mm Ceramic Purple Owls
Seed beads 11/0 - Antique French
Fuchsia, Toho Ceylon Light Ivory, Toho
Matte Iris Peridot
6 mm Pewter Beads
3 x 7 mm Czech Glass Daggers Purple AB
7 mm Bead Caps - Pewter
6 x mm Violet Candy Jade Rounds
25 x 8 mm Tierracast Magnetic Clasp
Lariat in Oranges, Greens and
Gold
4

3 1/2 inches long
Beautiful earthy tones make this lariat
fun and outdoorsy. A very long lariat that
can be worn many ways.
11/0 Seed Beads - Starlight, Matte Iris
Peridot, Bronze, Tangerine
8/0 Seed Beads - Gold and Tangerine
4 mm and 6 mm Cat's Eye Beads - Melon
8 mm Glass Faceted Beads - Green
12 mm Glass Faceted Bead - Topaz
6 x 3 mm Madeira Topaz Czech Glass Fire
Polished Rondelles
6, 8 and 10 mm Gold Bead Caps