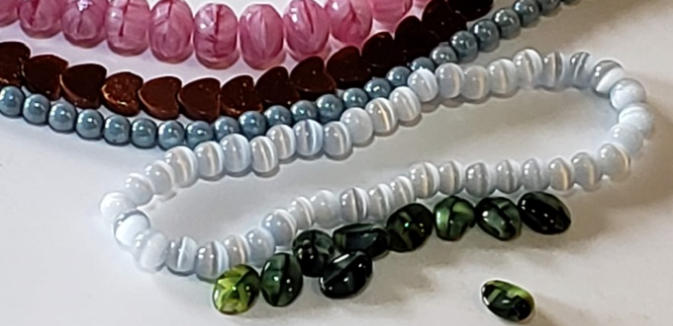 Bead Art Gallery - Page 17

This is a gallery of my past and present work. Each piece is
unique. If you see something you like email me about custom
work just for you.

Happiness Necklace
22 inches long
This cheerful little bird could make anyone
happy.
Seed beads 8/0 - Miyuki Opaque Brown Picasso
5 mm Czech Glass Daisy Spacers Blue
5 mm Lumi Brown Pressed Glass Discs
6 mm Lumi Wild Horse Picture Jasper Rounds.
4 x 6 mm Blue Turquoise Opaque Czech Glass
Bellflowers
20 x 21 Pewter Round Drop with Bird
6 mm Antique Copper Magnetic Clasp


































Black Rose Necklace
16 1/4 inches long
Black on black rose with spring green flowers.
A super fun necklace - especially for Halloween.
Seed beads 8/0 - Opaque Black
6 mm Black diamond AB Smooth Round Czech
Glass Druks
10 x 13 mm Czech Glass Peridot Birch Leaves
2,5 x 5 mm Superduo Black Gloss
10 x 14 mm Glass Rondelle Lavender
8 mm Czech Glass Peridot Druk
8 mm x 6 mm Bead Cap - Black Metal
20 x 35 mm Black Rose - Heavy Plastic
18 x 9 mm Tierracast Hammertone White
Bronze Plate Magnetic Clasp
Birdies Sing Necklace
20 inches long (Inside)
Inside Center to End of Flower drop 2 ½ inches
Fun, flowery necklace with hummingbirds. One
Gold Plated and one Copper plated. A lovely
flowery necklace for the nature lover. Many
colors.
Seed beads 8/0 - Miyuki Opaque Brown Picasso
11/0 Seed Beads Czech Glass Olivine Matte
6 x 8 mm Czech Glass Butterscotch Bellflowers
6 x 8 mm Czech Glass Siam Bellflowers
6 x 9 mm Purple Flower Pods Czech Glass
Matte
8 mm Flowers - Aqua with other colors
8 mm CG Frosted Amethyst AB Flower
12 mm Textured Creamsickle with Gold
Hibiscus Coins
6 x 8 mm Milky White CG Bellflower
6 mm CG Cobalt Flowers
6 x 8 mm CG Turquoise Opaque Bellflower
6 x 4 mm Czech Glass Matte Peridot Rice Beads
2 x 5 mm CG Opaque Bali Style Daisy Spacers
19 x 14 mm Tierracast Antique Copper Plated
Hummingbird Charm
19 x 14 mm Tierracast Gold Plaated
Hummingbird Charm
7 x 3 mm CG Yellow Flowers
25 x 8 mm Tierracast Rope Magnetic Clasp
Brass Plated
Translucent / Transparent
Lariat
47 inches long
Lovely feminine necklace made of pinks and
peaches and crystal glass. It has a wonderful
sparkle. Long enough to be tied in many ways.
Seed Beads 11/0 - Pastel Peach Ceylon
6 mm Czech Glass Lumi Pink Druks
2 x 4 mm Czech Glass Farfale Crystal
6 x 8 mm Czech Glass Pink and Gold
Bellflowers
3.4 mm Miyuki Drops Light Tea Rose